Instruments for Sale:
Monaco's Violin, Viola, Cello, and Bass Rentals:
Monaco's rents violins, violas, cellos, and basses. Monaco's covers all normal wear and tear, and will repair or replace the instrument at no charge to the renter. Monaco's does not cover damage caused by neglect, abuse, loss, theft, or total destruction.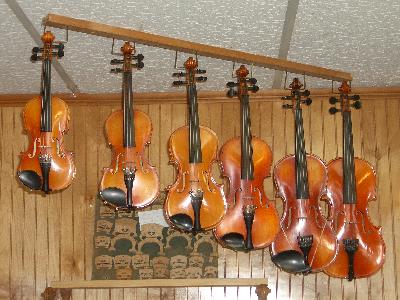 Monaco's does not charge for insurance, or any service fees. We require a major credit card (MasterCard, Visa, Discover) number on the rental contract for security and a valid New York State Drivers License for identification, and employment information for the adult renting the instrument.
As the student grows and needs the next size instrument, Monaco's will replace your instrument with the next size at no additional charge.
You can accumulate up to one years worth of rental credit towards the purchase of a new or used instrument in Monaco's retail inventory. The rentals are not for sale.
Monaco's has a three semester rental plan as listed below. Prices do not include sales tax.
SUMMER
JUL 1 - AUG 31
FALL
SEP 1 - JAN 31
SPRING
FEB 1 - JUN 30
VIOLIN
$24.00
$60.00
$60.00
VIOLA
$28.00
$70.00
$70.00
CELLO
$38.00
$95.00
$95.00
BASS
$80.00
$200.00
$200.00