Welcome to the Official Web Site of Monaco's Violin Shop & Music Centre!
We are CLOSED Tuesday, December 24, 2019 through Wednesday, January 1, 2020, for the Christmas holidays. We will re-open on Thursday, January 2, 2020 at noon.
Our school year store hours (September 1st - June 30th):
Monday, Tuesday, Thursday & Friday: 10:00am - 7:00pm
Saturday: 9:00am - 3:00pm
Wednesday & Sunday: CLOSED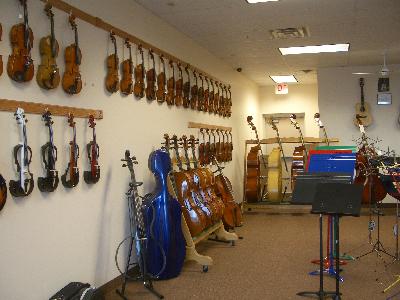 Monaco's is a family-owned music shop specializing in violins and other stringed instruments, serving musicians and schools in the Buffalo, Amherst, and Western New York area. Whether you are interested in renting, purchasing, or repairing your instrument, we provide personalized service and the knowledge and experience which come from two generations of craftsmen, professional musicians and music teachers!
Do you need a rental violin, viola, or cello for your child for the school year? Visit our Rentals Page for all the details.
We also have violins, violas, cellos, and basses for sale. Click the links on the left side of this page to see what we currently have in stock.
Check out our new "Shop Pictures" page to see some interesting instruments that we've had in our full-service repair shop!
Monaco's also has a full line of music and accessories for violins, violas, cellos and basses as well as guitar strings, tuners, music stands, in other words, EVERYTHING you might want or need for your young musician or for yourself! Come visit us!